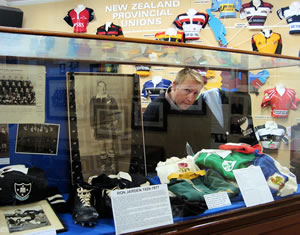 BLAZERS, jerseys, ties, shorts, socks and boots from the playing career of New Zealand's most prolific try-scorer, Ron Jarden, have been gifted to the New Zealand Rugby Museum by his family and are now on display.
Wellington's champion left winger and star back of his era, Jarden scored 145 tries from 134 first class games (including 16 tests) between 1949 and 1957 and is considered one of the great All Blacks.
Museum Chairman and noted rugby historian, Clive Akers, said other players have since scored more tries, but none at the rate of over one per game as achieved by Jarden.
He scored, on average, one try every 70 minutes, as opposed to current players like Sitiveni Sivivatu, Zac Guildford and Joe Rokocoko who play one-and-a-half games for each try scored.
"We can only wonder how well he would have performed in a later era," said Akers, "for he played at a time of conservative back play."
Jarden was also a proficient goal-kicker, totalling 141 conversions and 76 penalties in his career, and developed a successful centre-kick, from which fellow club, provincial and All Black loose forward, Bill Clark, often scored.
The ultimate perfectionist and determined competitor, Jarden was also proficient at athletics, swimming, squash, tennis, golf and sailing.
When Jarden retired at the age of 26, while at the peak of his form, the rugby nation was stunned.
"I had ascertained how good I could be," he explained, "and recognised that I could get no better. I had achieved my maximum."
After several years working for Shell Oil NZ Ltd he put his own career on course, and at the age of 30, entered the stockbroking business and soon formed his own firm, R.A. Jarden & Co.
He became a trustee of the National Art Gallery and the National Museum and a director of the Music Federation of NZ and many other businesses.
Jarden's growing national reputation as an astute businessman attracted the attention of leading politicians and in 1976 Prime Minister Rob Muldoon appointed him chairman of the NZ Broadcasting Corporation.
Less than a year later, however, New Zealand was shocked when Jarden, aged only 47, died of a heart attack after returning home from his regular early morning exercise.
New Zealand Rugby Museum Manager, Stephen Berg, said the museum was grateful to members of the Jarden family – widow, Joan, and daughter, Jennifer – in offering the collection for future safekeeping.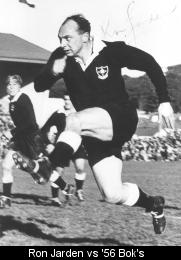 "We were really staggered by its size," said Berg, "and it rates as one of the best collections received from a single person."
All Black, Wellington and New Zealand Universities blazers, as well as the corresponding ties, are included among the personal items, as well as a full All Black playing kit of jersey, shorts, socks and boots.
"Having a complete AB uniform is unique in itself, and also a privilege," said Berg.
He said a well-worn Victoria University club jersey was a particular favourite as it represented a completely different era as far as players' gear was concerned.
"It shows a lot of wear and tear, and a replacement sleeve, and Joan well remembers repairing it many times. I can't imagine players of today having to play in jerseys that had been repaired multiple times."
Another eye-catching feature is the number of international jerseys that Jarden had swapped with some illustrious opponents – Ken Jones (Wales), Andre Boniface (France), Ted Woodward (England), Ian Swan (Scotland), Jim McCarthy (Ireland) and Peewee Howe (South Africa).
"All of the jerseys are in fantastic condition," said Berg, "and to have them alongside Ron's personal jerseys adds something special to the display."
A leather rugby ball was also a standout item among the possessions. It had been presented to Jarden by the Buller Rugby Football Union in 1955 to mark his achievement in becoming the first player in New Zealand to score 200 points in a first class season.
The Ron Jarden display can be viewed at the museum's Cuba Street premises in Palmerston North up until the opening of its new location in the Te Manawa complex in the CBD in April next year.
Bob Williams