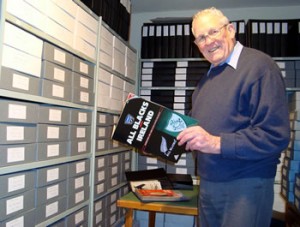 SIFTING through the New Zealand Rugby Museum's collection of nearly 13,000 match-day programmes for cataloguing and storage purposes requires a decent amount of discipline, perseverance and patience.
Long-serving museum committee member and retired New Zealand Army Major, Cliff Parker, has all those necessary traits, and he proved the ideal person to handle one of the demanding tasks facing the museum as it prepares for its relocation.
The museum, currently in Cuba Street, Palmerston North, is moving to the Te Manawa complex in the city's Central Business District, and is in the transitional stage of packing up its 40,000 items for the shift.
Cliff's project was to collate the massive number of programmes that had been trickling into the museum in "dribs and drabs" over the past 40 years and put them into order and in archival, acid-free storage boxes.
A careful approach was needed and Cliff was up to a challenge that took two months to complete.
"The test programmes were the easiest to sort," he said, "mainly because all tests are numbered in chronological order. You can pick up any programme and know by the match and the year whether it is test number 24 or 104."
Cliff also broke up the matches into groupings, such as tests between 1956 and 1964 or 1987 to 1989, after working with a list of all tours involving All Black test/s, making the task a lot easier.
"It was important to have a system, because once you picked up a programme you had to know where to put it."
Cliff located and itemised more than 360 test programmes of the 465 internationals now played by the All Blacks (following the 20-10 win over Australia at Christchurch in 2010).
"We are missing about 100 test programmes, most of them from the 1904-early 1930s period," he said. "I've completed a master list of those missing programmes, so if an old one does come in, we can check to see if it's in our collection or not."
The oldest test programme held by the museum is for the All Blacks' second official test, against the British Rugby Football Team, at Athletic Park, Wellington, on August 13, 1904.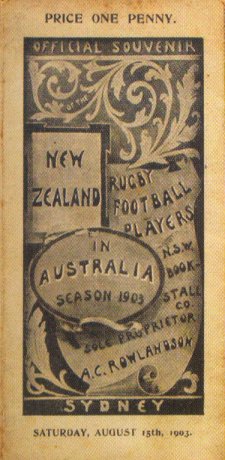 A graphic of the programme cover for the All Blacks' first test – against Australia at the Sydney Cricket Ground on August 15, 1903 – can be seen on the left.
In addition to building up the test programmes, Cliff operated two other international files – for All Black tours overseas and inbound tours to New Zealand.
"With the All Blacks on tour there was also a chronological order to work through," said Cliff, "and we do have programmes from most of the tours they have made."
Extra copies of test match programmes are included in these collections, along with the non-international weekend and mid-week fixtures. The oldest away All Black test programme is for the Scotland clash in Edinburgh on November 18, 1905.
Inbound tours also provide 24 folders of programmes, with most tours represented, starting with the 1904 Great Britain side and running through to the visit by the 2005 British and Irish Lions.
Although each match programme is unique in its own right, some are more valuable than others, such as the one for the Great Britain v West Coast-Buller encounter at Greymouth in 1930.
Cliff's attention then switched to Ranfurly Shield challenges, and he eventually filled 16 boxes containing programmes representing some of the most exciting provincial clashes ever played in New Zealand. The fascination of the shield – which continues to this day – is vividly captured in these records.
The oldest Ranfurly Shield programme in the museum is for Wairarapa's challenge against Hawke's Bay at Mclean Park, Napier, in 1923. The holders won 6-0 with future All Black great George Nepia kicking a penalty in his first match for Hawke's Bay.
Home inter-provincial encounters from 1913 to 2009 are also carefully stacked away in alphabetical order, union by union, ranging from nine boxes for Auckland to two boxes for West Coast. There are even some programmes for the Central Vikings (the resulting team after a brief amalgamation between Manawatu and Hawke's Bay).
But Cliff's task did not stop there, as other programmes depicting many other teams, tours, competitions and series needed to be sorted – for Rugby World Cups, Super 12 competitions and International Sevens, Black Ferns and inter-provincial women's matches, New Zealand Maori, Juniors, Colts, Universities and Services, non-test tours by smaller rugby countries such as Romania, All Black and North Island-South Island trials, the Cavaliers to South Africa, secondary schools and other off-shore international and club games.
And then there were the boxes needed for all the duplicates. Stacks of them!
In the finish, Cliff filled 317 boxes, with an average of 40 programmes per box: "I was instructed not to throw any away".
"I didn't know how big the job was until I started," said Cliff, "and felt the only way to approach it was to think logically, so that's why I started with the tests. Once I had worked my way through them, I began to realise what I was doing."
One noticeable difference in the programmes noted by Cliff was how much thicker, larger and glossier today's ones are compared to those from the early years.
"They were very flimsy then, with some on just one piece of paper, though many of them had lots of advertising. But the quality of the programmes – with the paper, printing and colour – is much better now."
One of the more frustrating aspects of the job was uncovering programmes, mainly French and Argentinean, which carried no date or year on the cover. And then there was the All Black v Australia "test" programme that turned out to be a tour match involving Australia B!
Though Cliff is not a programme collector himself, he did have a personal favourite – for the Second Test between the All Blacks and Springboks at Christchurch in 1937.
"I was just seven and it was the first time I had seen the All Blacks. I had a good look at that programme."
And so he might, for it represented a well deserved break from a consuming and detailed task that has provided structure to one of the museum's most valuable resources.
Bob Williams